It's nearly the end of the Fall Harvest, and as farmer's markets and produce stands are winding down along the East Coast and Midwest, it's time to stock up for the winter.
Buy Hardy Winter Squash Varieties that Will Last Throughout Winter
Squash – there are still several varieties of squashes available. Look for the mature varieties of
Acorn
Butternut
Buttercup
Delicata
Hubbard
Pumpkins (sugar or pie)
Turban
Spaghetti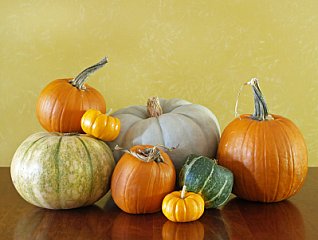 Pumpkins and winter squash (over 40 varieties are available) are stocked full of vitamins and provide a healthy dose of  beta carotene antioxidants to fight off winter flu bugs. Squash and pumpkins also contain Vitamin C, Iron and riboflavin along with the benefits of being low in calories, but high in fiber. Weight conscious people will also appreciate that these orange veggies are cholestrol and fat-free.
Unlike yellow squash, zucchini and other types of summer squash, the hardier winter squash can be kept for 2 to 4 months if stored correctly, and if bought directly from the field.
Start stocking up and saving for the winter months ahead with these delicious recipes, you will enjoy the hearty flavors of pumpkin and squash soup that these recipes provide.
Butternut Squash and Pumpkin Soup
Delicata Squash Stuffed with Wild Mushrooms and Herbs